Cathy Cullis is a painter, a poet, a maker. Chameleon-like, she shifts mediums with astonishing ease and rapidity. But what doesn't change about her is her sense of the nostalgic, of gentle melancholy and mystery.
Having studied both English and Art at university, she says "I'm aware of how both language and image can tantalize. I like how the two can play together." Words do indeed feature in much of her work – phrases are embroidered; fragments of text sit like unfinished conversations.
'simply' – machine embroidery on linen
'friendship' arm cuff. machine stitching on hand-dyed linen
'until you have found somewhere' – mixed media collage -on mountboard total 9 x 7″ 
She describes the making of this piece – "using my sewing machine as a drawing tool, ..my starting point for this piece was the text – a snippet from an old novel… I wondered about the meaning, how there are many ways of reading this phrase"
As her university studies mostly revolved around theory, her stitching and dyeing, painting and sculpture skills are for the most part self taught. "As a younger person I hated sewing! So when I finally got interested in it, I needed to teach myself. I've taught myself how to use a sewing machine as a drawing tool, I've taught myself how to paint in different ways, and I continue to allow my skills to evolve."
'in these uncertain times', gouache on paper
'rain or shine' – gouache on watercolour paper
She describes her influences – "I love to make things with my own two hands, using simple materials: thread, fabric, paper….I have a love of history, art history, folklore, memory, folk art, nostalgia, design and fashion."  She also loves Eastern European animation from the 1970s, outsider art, Medieval churches, shapes in nature, and children's art.
Of special mention is her particular interest in the work of outsider artist Madge Gill. Present in Cullis' work is the same collection of ethereal people, subtle colouring, and complex of textures. But what separates them is Cullis' figures seem less concerned with their appearance and more with relationships, and they appear much more hopeful.
What I respond to in her work is its tactility and its quietness. Its subtle colouring brings focus to small details.
'miracle' – doll, in papier mache, fabric, and other mixed media
'story' – doll in papier mache & mixed media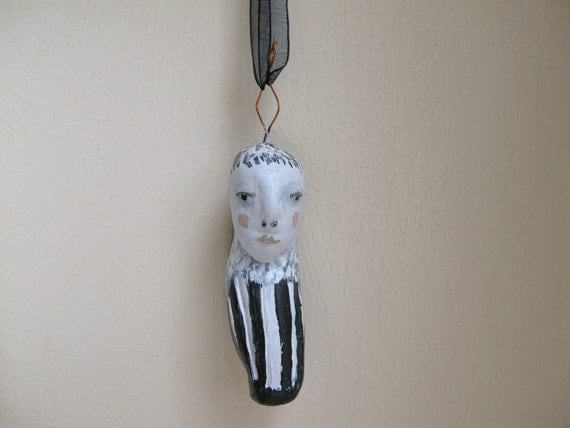 'striped figure' – air dry clay amulet
'neighbourhood' – self-published zine,
features a series of sketches and paintings exploring my own imaginative neighbourhood, places of town and twilight, trees and sky, dream-like
Each day brings something new. When asked recently, she said "Write a Poem Every Day would be my memoir. This is a phrase I have used in my work over the past several years. I have scratched it into collages, stitched the words on fabric, and continue to use it as my little saying or mantra. The phrase is completely open to interpretation, really, and that is why I like it —it can mean literally to write verse on a daily basis, or more deeply to live within the moment and make each day a little extraordinary."
Cathy Cullis is also a published poet, and received an Eric Gregory award for poetry in 1996 from the Society of Authors.
You can find more about Cathy Cullis and her work on her blog here; buy her work here, or check out her photostream on Flickr here.